We at Gorilla Trek Africa strive to bring the best possible members to our growing team. All of our Travel Advisors (and most of our staff) possess the following attributes: first-class and well-rounded college education; strong work ethics; a passion for travel; a firm belief in giving back to their communities.
Gorilla Trek Africa team offers exceptional service and personal accountability in East Africa. Our team travels extensively! We therefore know the success of a trip often depends on paying close attention to even the smallest details. Whether you're planning a tour for adventure, honeymoon, business, exploration or pleasure, our goal is to provide the best adventurous experience possible.
Wilbur Begumisa – CEO & Founder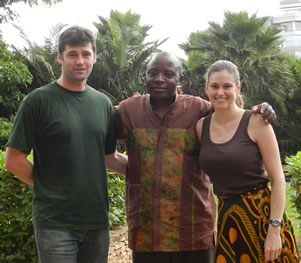 Wilbur is the founder and Managing Director for Gorilla Trek Africa. Born in Mbarara, in a small village near Lake Mburo National Park, Wilbur grew up with strong passion for wildlife and nature. He has lived in both the USA and Uganda. He is the man behind the success of Gorilla Trek Africa, and has organized countless trips in Uganda, Rwanda and Congo featuring gorilla trekking and wildlife safaris. With over 10 years professional experience in East Africa's Travel industry, Wilbur is ready to plan a perfect trip. As an avid traveler he has explored many countries in Africa and experienced how travel can broaden his horizons by meeting new people and new cultures.
Mary Mugisha – Operations manager since 1997
Mary holds a Bachelors Degree in Tourism with specialization in tour and travel operations. Mary is the head behind Gorilla trek Africa.She has organized numerous trips in Uganda, Rwanda and Congo featuring gorilla trekking and wildlife safaris. She is passionate about Uganda's tourism for it portrays Uganda's beauty to the world. Mary is a humble lady and believes in proving quality services for all clients and even after 10 years of successful running, she is still going strong!. +256 784 445 444. Email:info@gorillatrekafrica.com
Tumwesigwe Nilson – Senior Tour Consultant since 2007
Nelson, has a big passion for adventure and has travelled all through East Africa, which makes him an expert at what he does. His personal knowledge of East African wildlife and professional experiences in tour and travel operation smoothens the way for each of our clients. He is the "itinerary King" and his ability to advise clients is invaluable and always welcome. Do you need advice on your upcoming tour? What to pack? Where to go? How about gorilla permits? Or maybe you want to book a flight to Uganda or Rwanda.
Email: info@gorillatrekafrica.com
Bill William – USA representative
He answers direct questions from clients who wish to call him and relays all the information to us for price quoting and itinerary design. He gives insight into what is expected of African safari so that the clients have a picture of what to expect since he himself have travelled several times to Africa. He will gladly answer any questions or concerns you might have regarding your trip. He lives in San Diego Ca.
Brenda Matega-Web master
Brenda makes sure our name and websites don't get lost amongst the so many others on the internet. With a bachelors of science degree in Information technology from Uganda Martyrs University Nkozi, Brenda has mastered the technique of Internet Marketing and is still learning more as new technologies come in.
Kentalo Pauline-Accountant
Kentalo Pauline is a profession accountant from the school of certified accountants of Uganda (ICPAU),she is a very hard working lady with excellent communication & Facilitation skills, she is so passionate & efficient in balancing off books of accounts & holding finances of the company & ensuring a smooth running of all the company safaris.
Anna Murungi-Tour consultant
Anna is graduate of Tourism from Makerere University and she loves travelling and tourism as a whole. she is a tour and travel consultant with answers to all questions regarding tourism across Africa.Anna is a very social person, welcoming and out going to deal with all people of all kinds with great customer care skills.
Washaba Ruth-IT specialist
Ruth is a graduate from Makerere with bachelors in tourism management. She is an IT specialist at gorilla trek africa going under on job training for more technical skills. The love for travel is part of her as well as writting all updates about tourism across Africa and the whole world.
Nyangoma Maclyne-Reservatiosn Manager
Mackline is the head of reservations and bookings ensuring that our clients get high quality services in all hotels and lodges they stay at. She is a very out going person with great customer care skills.