Uganda and Rwanda are the best 2 homes of primates in Africa. Both Uganda and Rwanda have 13 primates species each, which is the highest in Africa. In Uganda, primates are inhabited in Kibale Forest, Kyambura Gorge, Budongo and/or Kaniyo Pabidi forest reserves. In Rwanda, Nyungwe Forest is a home to 13 primates. These include large communities of Chimpanzees that range up-to 400-500 individuals, other primates include black and white colobus monkeys, Mangabeys, blue monkeys, red-tailed monkeys, baboons, L'Hoest's and vervet monkeys among others.
Volcanoes National Park in Rwanda is not only famous for gorilla trekking but also for Golden Monkey tracking, hike to Diana Fossey's Graves, Bishoke Mountain Hike and cultural walks among others. Other homes of primates include Bwindi Impenetrable Forest, Mgahinga National Parks in Uganda.
Gorilla Trek Africa Ltd undertakes to offer tour services to different primate destinations. We tailor-make itineraries that range between 3 to 24 days primates safaris to different parks within Rwanda and Uganda. Below are some of the itineraries:
Rwanda Primates Safaris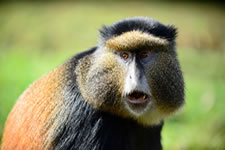 Look out for more itineraries on this website. Should you feel like making adjustments as you deem it necessary pass the information as soon as you can.
Email: info@gorillatrekafrica.com Tel: +256 701 106 004 OR +256 784 445 444
Enquiry / Booking
Click here to enquire about this trip or email us through info@gorillatrekafrica.com. To talk to one of our travel help team call +256 312 515 463 / +256 392 834606 / +256 784 445 444