Uganda Cultural TOURS – Culture, Religious and Cultural Heritage Sites Tours
What most distinguishes Uganda from any other recognized African Safari destination is her spectacular natural scenery, the diverse wildlife including half the world's remaining mountain gorilla population, and some of the friendliest people you could hope to encounter. Uganda's cultural richness endears her to tourists obsessed with African culture.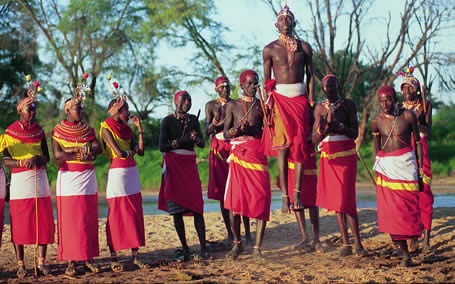 Uganda's population is approximately 27 million people multiplying at a rate of 2.5% per annum with numerous tribes, the majority (98%) being Africans who fall into four major ethnic categories: Bantu, Nilotics, Nile-Hamites, and Hamites.
Lake Kyoga is the northern boundary for the Bantu speaking people, who dominate much of East, Central and Southern Africa with the Baganda taking the biggest chunk. Most of the Bantu speaking people created their own kingdoms; Buganda, Ankole , Bunyoro, Busoga, and Tooro. Before the coming of the British these kingdoms were organized political entities with Buganda having the most civilized and highly centralized monarchy. In the north live the Acholi (near Lake Kyoga) and the Langi (towards the Sudanese border) who speak Nilotic languages. The east is inhabited by the Iteso and Karamajong who are related to the Masai pastoralists of Kenya. The Batwa, a pygmy related tribe, live in the western rainforests stretching up to the Ituri forests of Congo.
Uganda's Kingdoms present an organized cultural heritage that give Uganda an edge over other safari destinations in Africa. Some of the prime cultural heritage sites in Uganda include the Kasubi Tombs (under world cultural heritage), the Bujagali Site Shrines, Tooro, Busoga, Buganda and Ankole Palaces; religious shrines including the Bahaai Temple – the biggest and most magnificent in Africa, Lubaga Catholic cathedral – the second largest in Africa, and the Namugongo Martyrs' Shrines.
Uganda's are people are arguably the most generous, enthusiastic and polite in the world. Afrique Tours & Travel arranges cultural tours to the most exciting destinations in Uganda, Rwanda, Kenya and Tanzania.
We customize cultural safari tours to various cultural destinations. Book with us a cultural tour and get value for money.
Top Cultural Sites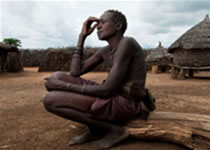 The 8 days Uganda safari takes you through the Karamoja region for a cultural tour and Kidepo Valley wildlife park, Uganda's most rewarding safari park with amazing wildlife that you cannot easily find in other national parks for a life time cultural & wildlife experience.
Read More